Added: 8 January, 2008
Group: Cinema 4D
How to create a cream tube in Cinema 4D
Author: TechTut.com
page: 2
Cream tube model Cinema 4D part 2
11. Now we will create tube it'self, at first with Spline create such shape:
12. Now, again, correct each point:
13. With Chamfer, smooth necessary points:
14. Apply modifier Lathe NURBS: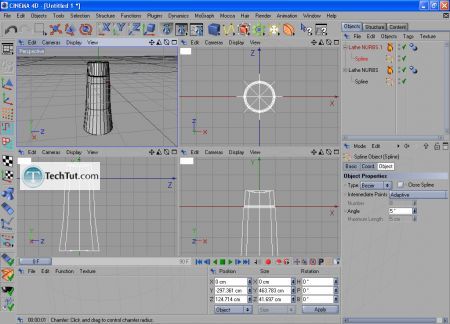 15. Select second Spline, at string Intermediate Points change Adaptive on Natural:
16. Now change number of Subvisions on 40:
17. Now deform tube, before it apply to the first set of modifiers modifier Polygon:
18. Press on modifier Polygon and select string Current State to Object:
19. Now delete this modifier since we have new object: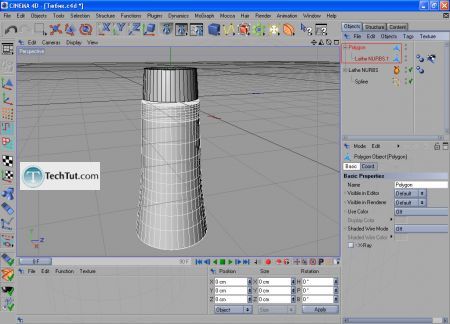 20. Add modifier FFD and customise appeared grid as tube shape: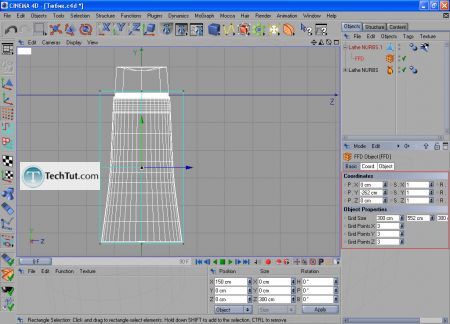 21. Apply modifier FFD to stack Polygon and flatten tube, with modifier FFD points, as on picture:
GO to:
Page 1 : Cream tube model Cinema 4D part 1
GO to:
Page 2 : Cream tube model Cinema 4D part 2
GO to:
Page 3 : Final render of a cream tube
TechTut.com This tutorial is copyrighted. Partial duplication or full duplication is prohibited and illegal. Translation or usage of any kind without authorís permission is illegal.

Join our RSS feed
Use our RSS feed to get the latest published tutorials directly to your news reader.