Added: 11 January, 2008
Group: Cinema 4D
How to create a jug in Cinema 4D
Author: TechTut.com
page: 1
Model a jug
This tutorial will show you how to create a realistic looking jug using only Cinema 4D.
1. Open Cinema4D:
2. Start with Spline, select tool Draw Linear Spline: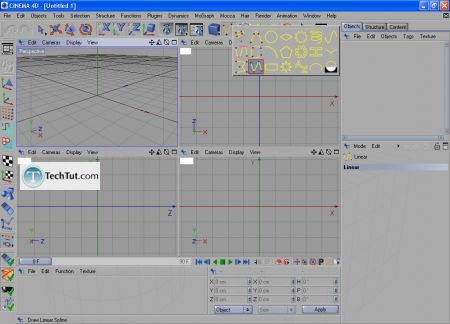 3. Create approximate shapel of jug: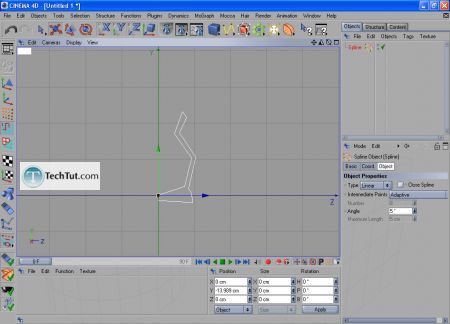 4. Add modifier Lathe NURBS, to see what shape we have:
5. Also apply it to Spline:
6. Delete modifier Lathe NURBS and correct Spline.
But before add vertices for top of jug, for this go to vertices editing mode:
7. Press right mouse button and select Add Point tool :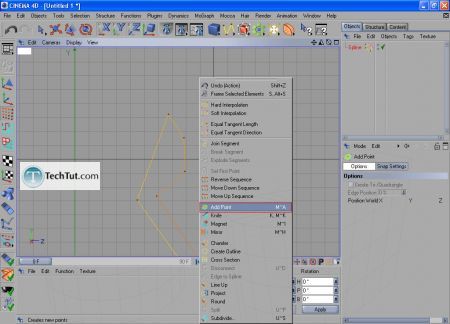 8. Add and move points, creating jug's top part:
9. Next - edit other vertices:
10. For other pasrts apply smooth, for this select each point and apply to it Chamfer:
11. Here is the result:
GO to:
Page 1 : Model a jug
GO to:
Page 2 : Polygons and nurbs for jug
GO to:
Page 3 : Final modeling and rendering
TechTut.com This tutorial is copyrighted. Partial duplication or full duplication is prohibited and illegal. Translation or usage of any kind without author�s permission is illegal.