Added: 11 January, 2008
Group: Cinema 4D
How to create a jug in Cinema 4D
Author: TechTut.com
page: 2
Polygons and nurbs for jug
12. Apply modifier Lathe NURBS:
13. Press on Lathe NURBS and increase Subdivisions number :
14. Create other parts, at first create Box, resize and move it:
15. Press right mouse button and selecte Make Editable:
16. Now it is possible to edit points Box, here result:
17. Now edit polygons:
18. Select side polygons:
19. Press right mouse button and select tool Extrude: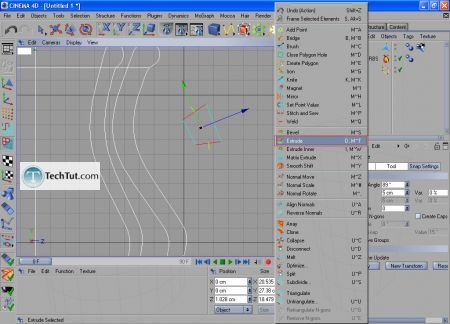 20. Increase number Offset (extrude length), press Apply and New Transform:
21. Edit vertices:
GO to:
Page 1 : Model a jug
GO to:
Page 2 : Polygons and nurbs for jug
GO to:
Page 3 : Final modeling and rendering
TechTut.com This tutorial is copyrighted. Partial duplication or full duplication is prohibited and illegal. Translation or usage of any kind without authorís permission is illegal.

Join our RSS feed
Use our RSS feed to get the latest published tutorials directly to your news reader.