Added: 7 September, 2007
Group: 3D studio max
Create low poly house
Author: TechTut.com
page: 4
Low poly house done in 3D max part 4
Set ID 4 for glass.
Set ID 6 for wooden part f window.
Now select bottom of house.
Extrude selected polygons (in Extrude window choose Local Normal).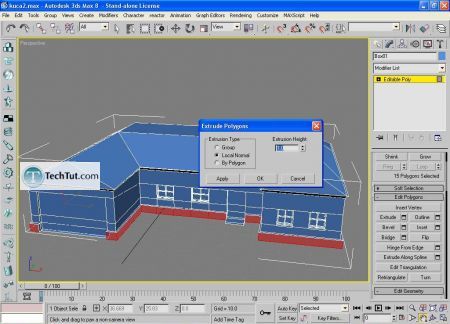 Set ID 7 for those polygons.
Select walls and set ID 5.
Open material editor, just pres M on keyboard. Click on Standard type of material and in list choose Multi/Sub-Object.
Check first 7 materials in list and just change them color. Assign multi/sub-object material to house.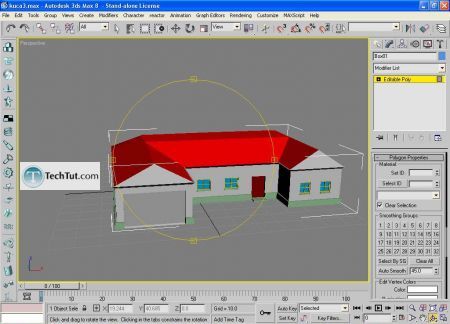 Now go to Editable poly/ polygon properties and in Select ID type 2 and click on Select ID button.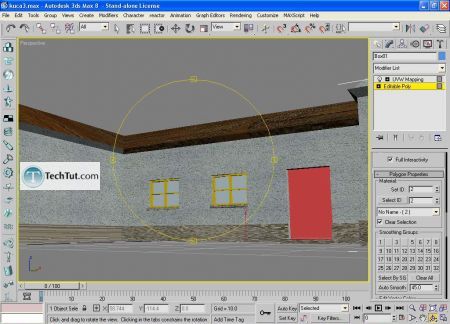 In Edit geometry menu click on Detach button and detach as 'door'. Do same for all IDs, and give them names: walls, garage, windows, glass, and roof.
Open material editor. In material editor click on already created Sub/material, and choose first sub material (material for roof). For diffuse map use roof_shingles.jpg
Now click on map roof_shingles.jpg and tile them (32/32).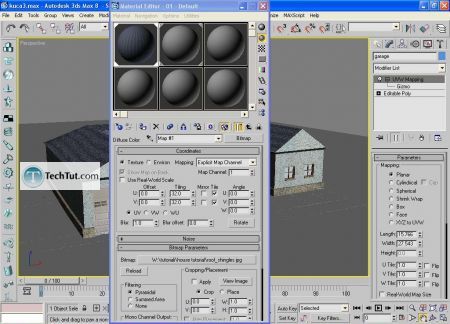 Now select roof and use modify UVW mapping. Apply planar mapping.
For other materials use these settings:
Sub-Material 2 (for door) use fit-door.gif map for diffuse
Sub-Material 3 (garage) use garage_door.jpg
Sub-Material 4 (glass)
Sub-Material 5 (walls): use Concrete_Blue_Stucco material (tilling: 5/1)
Sub-Material 6: just put brown color
Sub-Material 7: use Concrete_Brown_Stucco (tilling: 5/1)
Put Omni light in scene and drag it up, use these settings (see picture)
Press F10 and Render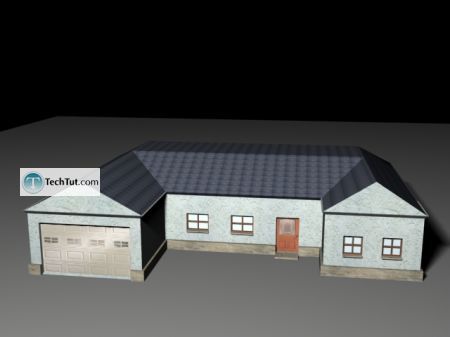 GO to:
Page 1 : Low poly house done in 3D max part 1
GO to:
Page 2 : Low poly house done in 3D max part 2
GO to:
Page 3 : Low poly house done in 3D max part 3
GO to:
Page 4 : Low poly house done in 3D max part 4
TechTut.com This tutorial is copyrighted. Partial duplication or full duplication is prohibited and illegal. Translation or usage of any kind without author�s permission is illegal.